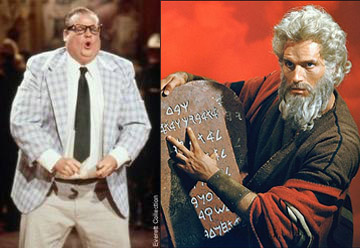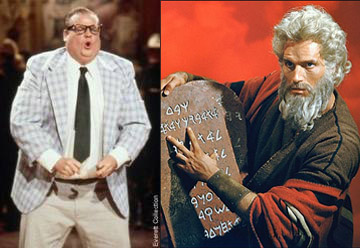 The Burning Bush episode in Exodus 3 and 4 ranks among the most compelling scenes in the Old Testament. Here's Moses, once full of promise and potential, but now considered the biggest Draft Bust in history. He's a total washout now, living with a desert tribe, traveling in tents, looking after sheep.
Then he sees a bush on fire. He watches it for a minute, and notices that it's not falling. It's not turning to ash. Somehow, the thing still looks completely intact. He just has to take a closer look.
And it's God, of course. He calls Moses by name, and then proceeds to give him an insane, impossible mission: to stand before the most powerful man in the world and demand he set his slaves free. Hundreds of thousands of them.
Moses shifts his weight back and forth on his bare feet. Once upon a time, when he was the golden boy, he might have been up to this. But that was a long, LONG time ago. So he asks the obvious question:
"Who am I, that I should go to Pharaoh?"
He needed a motivational speech. He needed Matt Foley to warn him what happens to people who miss out on their dreams (Hint: it might have involved a carriage down by the Nile). He needed play a tape by Louis Gossett Jr. Or an Oprah couch session. Somebody needed to prop him up and tell him:
Who are you? You are Moses! You are you! You were trained for this moment. It was a long time ago, yes, but it's still down there. You are ready! Your people need what you've got, bro! Get up, dust yourself off and go. You. Can. Do. This.
But God doesn't give motivation here. In fact, he doesn't talk about Moses at all. He only says this:
"Certainly, I am with you."
And that is his answer.
Is Moses qualified? No. He really is washed out. Totally inadequate. He was old and tired. He might have forgotten the language. All of his self-doubt was legitimate.
But those doubts only proved that he missed the point. Moses could accomplish the mission because of Who was with Him.
I feel overwhelmed sometimes with the duties I have been assigned. I talk God, because when I tell others, they usually try to talk me out of it: "No, dude. Don't feel that way. You were MADE for this!" Sometimes, I admit, I like hearing that. But overall, it drives me mad, because I know the truth. I am not up to the job of ministering to the broken, or turning hearts toward the Creator, or parenting a boy with severe autism.
I am relieved that God doesn't try to talk me out of my doubts. He simply says:
"I am with you."
And that is the central story of scripture:
God creates children just to be with them.
When they run away, He steps out of Heaven to become Immanuel. God with us.
Don't get me wrong, I believe we can be competent. But I also believe we are called to do impossible exploits, where we lean on Him because we are powerless without Him.
Fortunately, we are never without Him.
******
(Today's post is part of an ongoing series that corresponds to the "Life Journal" Bible reading plan. Expect regular installments throughout 2013)
http://www.jasonhague.com/wp-content/uploads/2017/01/logo.png
0
0
jason
http://www.jasonhague.com/wp-content/uploads/2017/01/logo.png
jason
2013-01-22 15:04:05
2013-02-25 09:30:45
When Moses Needed Matt Foley