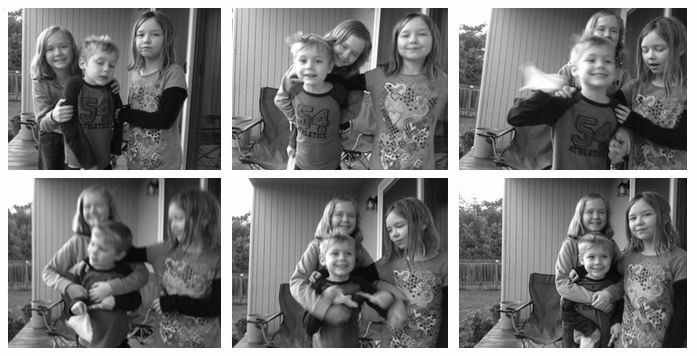 I haven't had any guest posts here before, but what better time to start? My daughter Emily (the one on the left) is eleven, going on twenty-three. I wrote about her and her sister earlier this year, but she topped me with this, which she wrote for school last week. I couldn't be prouder. It's worth noting that we didn't help her on this, except to clean up a few details in her timeline, and fix some minor punctuation. This is all her. And the best part is, she really lives it. Her sister does, too. I'm thinking more and more that the siblings of special needs kids are some of the most amazing people on the planet. -jh
---
Don't Judge a Boy by his Diagnosis
By Emily Hague
It was June 2009, and it was that crazy year that my life changed forever. My little brother Jack was three, and I was eight. Everything seemed perfect. School was out, and my friends and I were playing every minute we could together. All of that changed when one day, when mom and dad called me and my little sister, Jenna, inside early. I had no idea that what I would learn would turn my whole world upside down.
     
I remember thinking how frustrating it was that my friends and I were right in the middle of making a perfectly good fairy house when mom and dad had to come in and ruined all the fun! Mom set the stirring spoon down next to the stove and sat down in a chair as Dad opened the door for us and sat us down on the couch. I can't tell you exactly what was said, mainly because I can't remember, but it went something like this: "Girls," my dad said, "things are going to be a little different from now on." "How so?"I grumbled. I didn't want anything to change. "Well," my dad said, "Mom and I, just found out that Jack has autism." I was about to ask what autism was, when Jenna beat me to it."What's Autism?" I think Mom and dad had a hard time explaining this to us since Jenna was only seven and I was eight. They did their best to explain but I still didn't understand for quite a while. All I knew was that Jack couldn't think like we did, and that was good enough for me.
 
Three days later we moved to rainy, cold Oregon, and there Jack started going to a school called a Child's Garden that specialized with kids with autism. I saw him slowly learn and grow, and it became obvious that he wasn't quite like other children his age. He liked to wander off by himself. He didn't look you in the eye, and he couldn't talk. One morning we were excited to show mom and dad that we had taught Jack how to say "Please," but when we told him to say it the next day, he looked at us as if to say "What are you talking about?" His mind had lost the words again. 
Suddenly it all fit together in my mind. Autism made it hard to communicate with Jack because he couldn't talk or understand everything. It was like he was trapped in his own world. I asked Dad why Jack would stare out the window and not look us in the eyes. And he said, "He sees things differently than we do." Little things like a light or a sound that wouldn't bother me at all, would drive him crazy. When he pulls away into his own little world, that means he can't cope with the light, or the sound, or whatever else is bothering him. Even now, Jack has a tendency to get attached to random things that we see as every day items (we're not sure why), such as a certain shirt, or a spatula, or a bean can. If you take one of these things out of the equation, you get a fit.
So eventually we each developed a special way to communicate and connect with him. My personal way was and is to talk directly to him, play directly with him, not act like we're talking to somebody from another planet. He's a kid too. We play tickle tag throughout the house, go on walks to the park, and play games on the iPad together, just like normal siblings. Because we are normal siblings.
 

Over the years I've seen people look at him in his state of being as if to say,"What the heck?" And I know that they could never really understand who Jack is. As Jack's sister, I've learned not to look at Jack's outward appearance. I've also learned that you need to take time to understand somebody before you form an opinion about them, otherwise you could be making a big mistake. So the old saying's true: "Never judge a book by its cover." But in Jack's case, I say, "Don't judge a boy by his diagnosis." I love Jack, Autism and all. He brings joy to my life every day, and I can't imagine life without him.
http://www.jasonhague.com/wp-content/uploads/2013/10/siblings2.jpg
356
697
jason
http://www.jasonhague.com/wp-content/uploads/2017/01/logo.png
jason
2013-10-11 10:13:11
2013-10-11 12:51:27
The Big Sister Speaks! (A Guest Post)