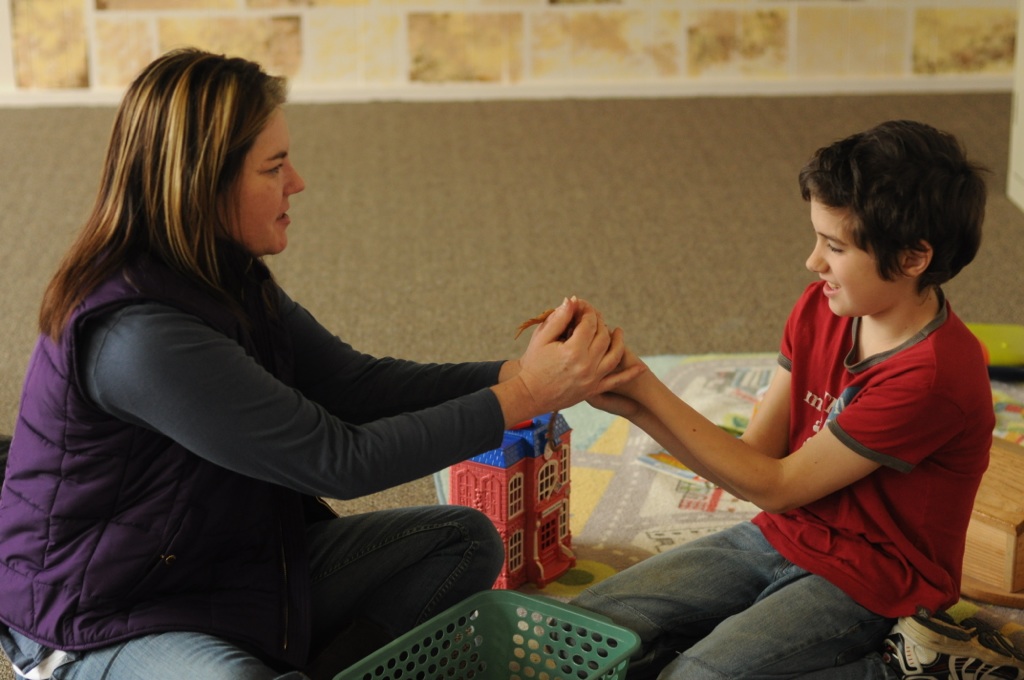 My family doesn't get out much. You might see two or three of us at the grocery store, the school parking lot, or even at the movies. But you would never know that we have five children, because we almost never go out as a family. Restaurants are not worth it, and don't even get me started on theme parks and state fairs.
We are like many invisible families with autistic children. We stay home.
Why do we do it? Not because life is just so sad and we can't get out of bed. No, we stay in because home is easier. We don't have to worry about shopping cart tantrums in the cereal aisle. We don't have to hem our son in the corner of a booth to prevent escapes. At home, he can run around and explore his own environment in safety and familiarity.
According to the CDC, 1 in 88 children now has autism in the U.S. For boys, the numbers are even worse: 1 in 54. What does this mean? It means there are many invisible families like us right in your back yard.
What Churches Can Do
For invisible families, going to church is worse than going to a restaurant. It's just too much to expect your kid to sit quietly for that long. When my church hired me, my boss Pastor Joshua Rivas understood this dilemma. There were two other autistic boys in our congregation, and he wanted to help all of us. So he proposed a strategy that he thought would be effective and, as he likes to say, "simple and sustainable." He was right.
The Strategy
1) We designated a room at church for special needs kids. Why? Because these boys were too old for the nursery and too disruptive for the the main service or sunday school classes. They needed their own space where they could flap and stim and make noises. So we went to work on the room, removing the loud decor and repainting it in an effort to create a calm space. We named it "The Open Heavens Room."
2) We looked for toys, books, and activities that autistic kids enjoy. No TV's, mind you. Tactile tools to help our kids grow. After a while, people started donating. There is even a small ball pit and an exercise trampoline. My son loves it there. He thinks he owns the place.
3) We educated our congregation. They know our kids now, and they don't get upset if there are disruptions. We get questions all the time now about how autism works, and how to approach our kids. And you know what? The awkward mystery that used to be there is gone. I love seeing people of all ages hug my son and try to engage him. Sometimes he crawls into their laps and scratches their arms. They don't shrink back from him. In fact, they love it. My son has become an accepted member of the church, with dozens of aunts, uncles, and grandparents all looking out for him. It's awesome.
4) And this is the most important step… We HIRED a professional to work with our kids every sunday morning. Not a volunteer from the youth group. A professional. Yes, it required a little money, but it was worth it. We wanted to be sure we had someone who would know how to disarm tantrums and help our kids stay safe. Someone who would not be intimidated by our son's screaming, but could calmly say "look me in the eye. Use your words."
We found Lori.
Lori works at a stellar autism program nearby. We used to send Jackson there before he got too old. The boys adores her almost as much as we do. Every Sunday from the beginning of early sunday school to the end of church, Lori challenges our kids to cooperate and use language. She links their hands and leads them into the main service when the music is blaring. They like that. She even takes them outside on walks, reminding them to "Stop. Look both ways. Get your grown-up!"
Rather than babysitting, Lori is helping our kids have fun, learn, and grow. No Veggie Tales episode can do this. Only someone with good training.
One important note here: we did not look specifically to hire a Christian. We looked for someone who loved and understood special needs kids.The fact that Lori is a Christian was just an awesome bonus. But Jackson had many teachers in that stellar program I mentioned. Many of them were not believers, but I can tell you without reservation that they loved him. Why else would they work in that field? They love these kids.
We have not advertised our program except on our website, but three months ago, another family heard about it. A large family with three boys on the autism spectrum. Like us, they love Jesus but often didn't have the strength to brave church. So they joined us.
Since the kids are happy in the Open Heavens Room, mom and dad are breathing easy during the service, and they are quickly becoming part of our church family. That's the best part. You see, our church knows how to love, and now we can expand our community to include others–hidden families who especially need that love. Now, we are talking about starting a support group for autism families around our city. Because they are out there, even if we can't see them.
A Challenge
One of my favorite bloggers Matt Appling recently lamented, "Nearly every cause that people get passionate about, the church lets pass by." He was talking about bullying, but the statement rings even louder for autism. There is so much passion here, and so little response from the church as an institution. Maybe that's because autism has become political with all the funding requests and the back-and-forths about vaccines and potential treatments. Maybe the church is just dizzy, and doesn't know which slogans she should be chanting.
But then, why would we assume political activism is our only avenue for a response? Can't we take individual action without getting caught up in debates we don't understand?
Friends, Autism is an epidemic, and it's not going away. We cannot let this cause pass us by. We need to respond in whatever small ways we can.
Here is my challenge to my fellow pastors around the country:
Try what we have done. Or something like it. Maybe you can't pay someone yet, but recruit some good, capable people. Create a space for these invisible families. It will cost a little, but it will be worth it. Believe me, families will come. And when they do, sick your people on them. Surround them and surprise them with the love of Jesus. In doing so, you will make a powerful statement to special needs children everywhere:
"You are more than sum of your social abilities.
You are created in the image of God Himself.
He sees you. He loves you. And so do we."

What do you think? Do you know autism families in your area who would be blessed by a program like this? If so, would you do me a favor and share this article? I would love to see more churches jump on this idea.
---
Our local paper just did a story on our family and "The Open Heavens Room."
You can read it here.
http://www.jasonhague.com/wp-content/uploads/2012/08/lori.jpg
680
1024
jason
http://www.jasonhague.com/wp-content/uploads/2017/01/logo.png
jason
2012-08-20 23:04:24
2017-03-07 17:00:08
"Invisible" Autism Families; How the Church can Help