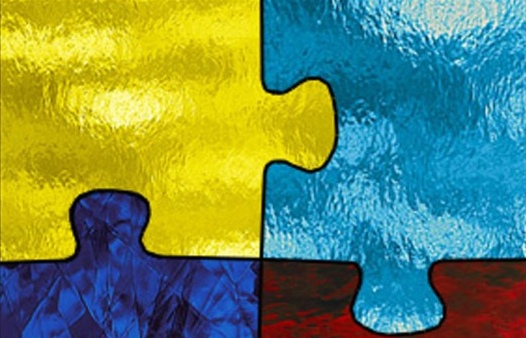 Dear Church,
You don't know me, but I am one of you. I was born in you and raised in you. I did mimes in parks and marinated to the soothing rasps of Chapman and Smitty. And now that I'm mostly grown up, I am one of the guys who sits on the front row and "brings the word" on a Sunday morning.
I have five children, and one has autism. When he was diagnosed, it rocked my world. We couldn't communicate with him, and I got depressed about it. I withdrew. I got angry.
Five years later, he has made good strides in his communication, and I have grown, too. Granted, I'm still moody, but I'm not depressed anymore, and one of the biggest reasons is because of my brothers and sisters. The church. You.
I wasn't on staff at the time of Jack's diagnosis but my church leadership embraced my entire family. They took us in. They let us vent and cry. They listened. They went out of their way to love my son and accommodate us. To let us hurt and to help us heal.
You did this. And I love you for it.
But it went further. The entire church body embraced my boy. One Sunday morning, I was on stage giving the announcements, and he bolted to the front of the sanctuary to see me. I picked him up and let him say hi in the microphone. Nobody was irritated. They were delighted because they, too, are striving to know him. They love him.
You did this. And I love you for it.
I am a gushing fan, because I have personally felt the healing of Christ at your touch. My only regret is that so many others have had such radically different experiences.
In the past year, as I've hung around the online autism community, I have found very few others who are discussing autism and the Christian faith. There are many reasons for this, I'm sure, but the biggest one is this: we have not known what to say about the issue, but we've still tried to offer solutions, especially when it comes to children. And those solutions have driven people away over time.
Okay, it's worse than that, actually. I've talked to many parents of autistic kids who have been simply uninvited from church fellowship. Their son was loud one service, or he was running through the foyer. So they were told not to come back. These are the exceptions, but make no mistake, they happen. All too often. Can I speculate on a reason?
I think it's because of our views on parenting.
The fact is, there isn't very much written directly about parenting in the Bible. I wish there was more. It's hard to list good parents in the bible, but it's alarmingly simple to find poor ones, even among the heroes: Jacob, Eli, Saul, David, Solomon, and Hezekiah, to name a few. Maybe it's because we are so short good examples that we have turned to the book of Proverbs, where sayings such as,"Spare the rod and spoil the child," become our textbook.
Having kid problems? "Give 'em some discipline," we tell them, as if it's enough. Because we know people who don't discipline their rug rats, and their kids are brats, so that proves it, right?
I use that example for a reason: it has wounded many, many children with autism, and it has confounded their already hurting parents. I've talked to them.
This is what I want to say to you, brothers and sisters in Christ:
Autism is not a discipline issue.
It really is not. There are boundaries that will need to be drawn and enforced, but those are secondary.
Autism is primarily a sensory issue. Autistic people see things and hear things and feel things in a much different way than the rest of us. They receive extra "data" from their senses, and they don't always know how to react. Sometimes their bodies just rebel against sensory overload, and that can be a confusing thing. A disconcerting thing.
But please, don't assume it's a character issue.
I prefer a different Proverb to inform my parenting: "Train up the child according to the tenor of his way, and when he is old he will not depart from it." (Prov 22:6, Darby) In other words, there is not a specific mold for our children to fit. There just isn't. There's no perfect playbook. No magic bullets. Every child is different, and it is our job to figure out how best to lead them based on who they are.
This is a proverb for us, the church, as well as for parents. How can we encourage the health and growth of our own if we don't understand them?
Hear me, friends. I am not bashing. I have seen such beauty in our midst. But I have also seen confusion at these intersections.
The CDC tells us that there are more kids getting autism than ever. They say it's 1 in 68 now. Whether or not you take those numbers seriously, you need to know that there are many families in your neighborhoods that need the beauty of love that is found in your midst. Some of them are invisible, but you can open your doors to them like we did. Others will work up the courage to visit your services, sitting (or standing) in the back, looking apprehensive when the kids are dismissed to Sunday School. In order to share that love with these families, we must adamantly refuse to assume causes and solutions that we know nothing about.
I know we like things to be simple, and we sometimes panic when they are not.
We try to convince ourselves that the answer is easy. Right in front of us. We've got the Bible, see, so we've got answers. Nothing to see here, people. Move on!
But today is Autism Awareness day, friends, and we need to be aware of the insufficiency of our advice. We need to go back to our roots and remember that Christ Himself is the Answer. We cannot always think His thoughts, but we can at least be His arms. To welcome. To embrace. To be there for one another.
This is the place I found healing. Not in the abundance of words, but in warmth.
And I love you for it.
---
Photo from
GeekyGlass.com
http://www.jasonhague.com/wp-content/uploads/2014/04/stained-glass1.jpg
338
526
jason
http://www.jasonhague.com/wp-content/uploads/2017/01/logo.png
jason
2014-04-02 11:41:50
2014-04-02 11:41:50
Autism Awareness: What I Want the Church to Know